At El Cigarral de las Mercedes we like to surprise the wedding guests but also the Bride and Groom. It was a great challenge for us to surprise this bride as she knew our estate especially well, but we succeeded in the end.
Sara and Joso first got to know each other one hot summer day when all the friends gathered down at the pool bar in the housing complex where Joso lived. They were 16 years old and they were each other's first love.
Joso didn't propose until 15 years later, when they were guests at a wedding here at El Cigarral de las Mercedes. When the wedding celebration for their friends were over, they went up to the jacuzzi in their Deluxe room at the Boutique Hotel, where Joso popped the question. Sara said yes and exactly one year later they would be the happy couple to get married at El Cigarral de las Mercedes.
Sara got her hair and make-up done by our stylists Julie and Juana in Villa Africa at our Boutique hotel.
She wore the Kira dress from Pronovias, a mermaid dress in crepe and tulle, with a low-cut design in the back and decorated with gemstone embroidery. Sara also wore a bracelet from Aristocrazy that her friends gave her and diamond earrings that her sister borrowed her. To accompany this look she wore silver sandals and a beautiful sparkling gemstone headpiece.
The bridal bouquet was made by El Cigarral de las Mercedes' inhouse florist, María. The bouquet had hot pink roses and astible, pink peonies and eucalyptus branches.
Joso wore a tailor-made suit made of Julian Muñoz.
Something blue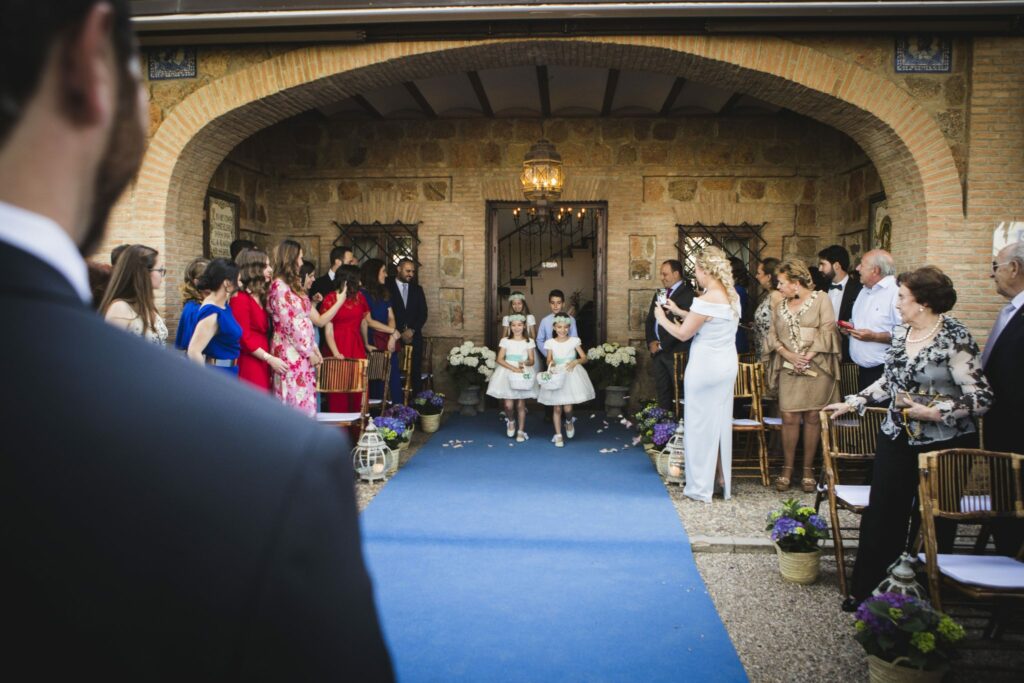 Sara and Joso celebrated their religious ceremony in our famous Mirador with the best views of Toledo. The Mirador was beautifully decorated with a blue carpet, purple hydrangeas and candles. Small vases with pink roses matching the ones in the bridal bouquet, was hanging down from the branches of the big oak. The wedding bands that they exchanged were custom made from the jewellery store Lobatos.
After the ceremony, the Bride and Groom and their guests enjoyed an appetizer consisting of numerous canapés and special corners such as oyster buffet with Moet champagne, a huge paella and show cooking.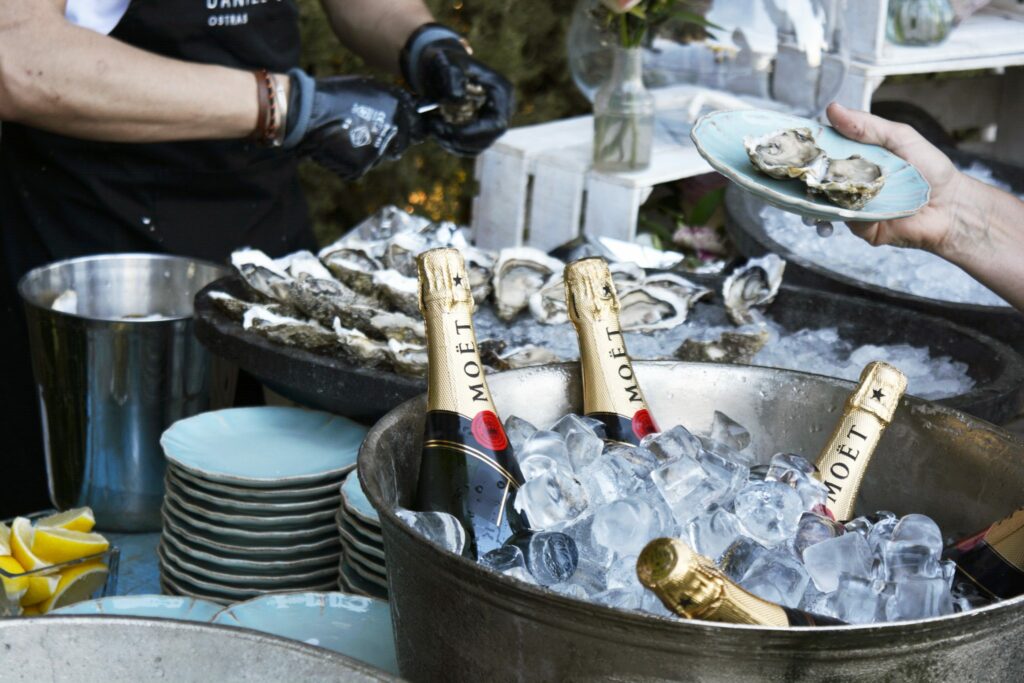 The couple also had a special designed photo call made by the wedding coordinators Alba and Nestor, where the guests could strike a pose and have their photo taken by the photographer Laurel Camino.
The dinner was held down by our lake. Sara and Joso had rented bamboo chairs to get a relaxed and rustic feel to the wedding. The bride and grooms table were a wooden table with a eucalyptus runner with pink flowers in it. Their table was under a wooden pergola with small fairy lights on it.
The kitchen had prepared a delicious 4 course meal. They started with Melon with basil and Jamón Iberico, then they had hake with tomato sauce and at last they had iberic pork fillets with mustard sauce and potato fondant. They finished the meal with cheese mille-feuille with raspberry ice cream and a beautiful semi naked vanilla cake.
Since Sara and Joso have a real sweet tooth they decided to surprise the guest with more desserts in from of a dessert buffet served from a beautiful vintage caravan.
After the dinner Sara and Joso entered the dancefloor for their first dance together as husband and wife. They surprised the crowd with a well thought out choreography to Scorpion's Wind of change. Sara was especially happy that she got the opportunity to dance a paso doble with her 100-year-old grandfather. Later on, the guests joined the dancefloor and the party went on for many hours.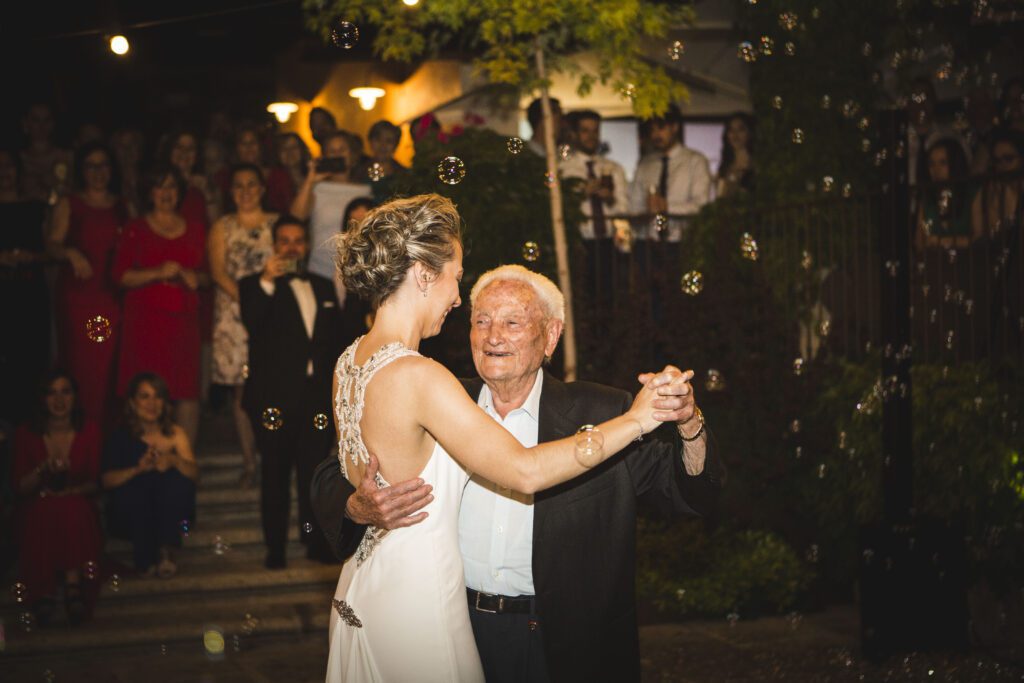 The photos used in this post were made by Ismael Perez from El Estudio Verde and Laurel Camino.