Corina and Dorin got married here at the Cigarral de las Mercedes on Sunday 19 May 2019. Who would have known they would get married when they first met at their friend's birthday party that night in Madrid?
The couple were on holiday in Australia, riding along the Great Ocean Road to the Twelve Apostles when Dorin asked Corina to marry him. As you can imagine the proposal was absolutely magical, but perhaps a little windy.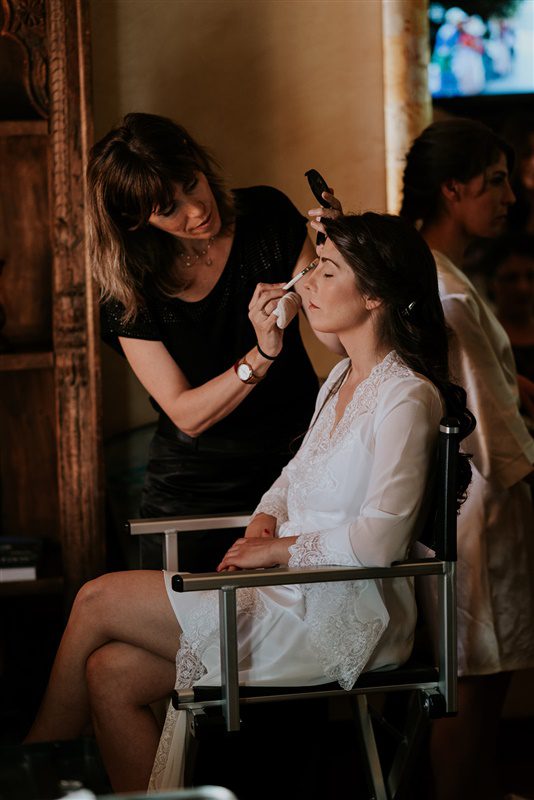 Corina started her day with breakfast at Villa Asia which is one of our 4 villas in our Boutique Hotel. Her hair and make-up were done by the great professionals of Maquíllate conmigo.
On the big day, Corina wore the Crystal dress by Promovía, which is a feminine and minimalist low-waisted mermaid dress with a wrap-around off the shoulders neckline, with long removable sleeves. In addition, the original removable train is born in the form of a cape on the bias at the back. She accessorised the look with cream-coloured shoes by LODI.
The bride also wore earrings from Blue Door Gifts, a necklace she borrowed from her sister and a beautiful sparkling headpiece.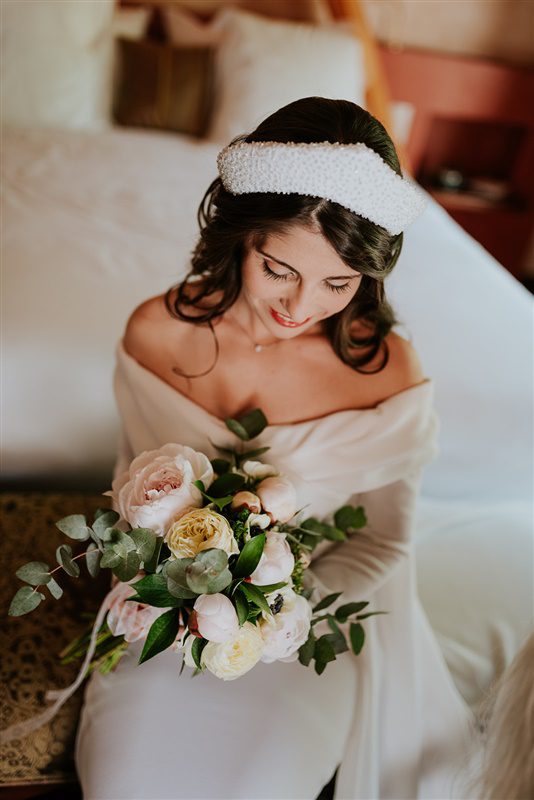 The florist of the Cigarral de las Mercedes made the bridal bouquet. It was a large bouquet with light pink peonies, yellow David Austin English roses, white anemones and eucalyptus and ruscus for a touch of green.
Of course, Corina wore her engagement ring from Nicol's, a double band ring in white gold with a central rosette of 7 brilliant cut diamonds.
Dorin wore a black suit by García Madrid and a Daniel Wellington watch.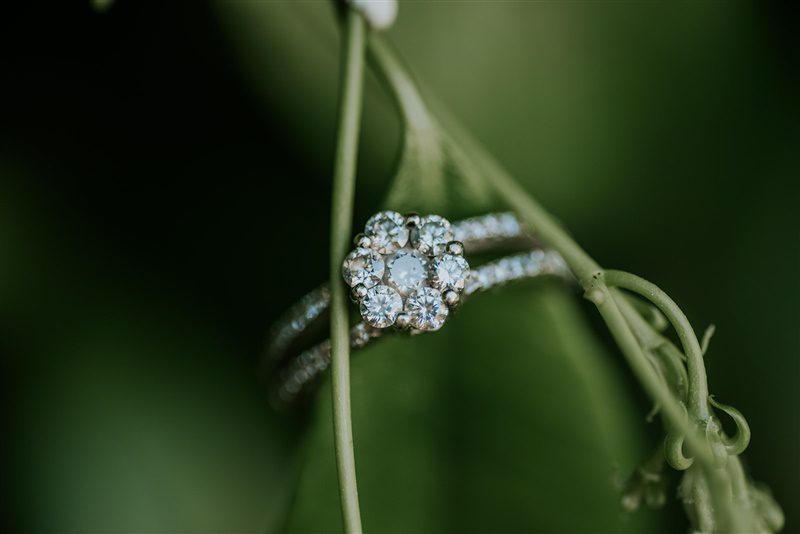 Religious ceremony at the Mirador
The wedding ceremony was held at the Mirador in the Cigarral de las Mercedes at 12.30 pm.
The aisle was beautifully decorated with a cream carpet, baskets with paniculata and candles.
The ceremony was conducted by a pastor of the Orthodox Christian church in Madrid.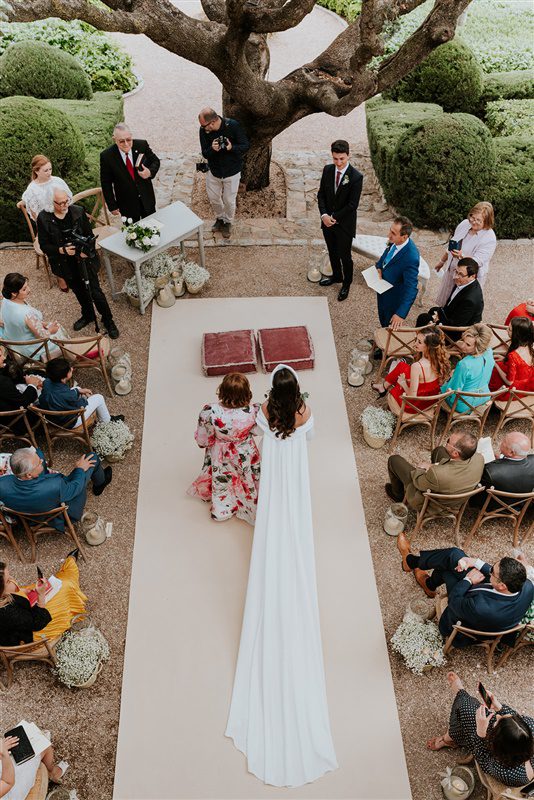 After the ceremony, the bride and groom and all their family and friends enjoyed an aperitif with 24 different types of canapés. There was also a cheese buffet and a large paella for the guests to enjoy.
Lunch was served in the Light Room, our largest banqueting area. The couple had chosen a beige tablecloth with pink spring flowers and a white under plate with a small ball border and fleur-de-lis symbol on top. The tables were also beautifully decorated with pink and lilac flowers in small vases on a mirrored base.
When the guests sat down at the table they found a TEA FORTE tea pyramid that they could bring home as a souvenir of this joyful day.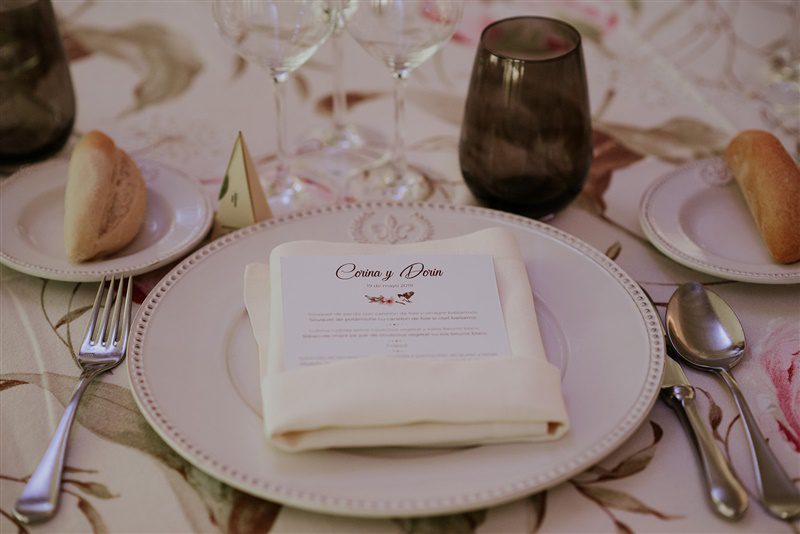 Corina and Dorin had decided to start their lunch with a partridge souquet served with a foie cannelloni and balsamic vinegar. They then continued with a roast sea bass on vegetable cous-cous and beurre blanc sauce and sirloin steak with marsala sauce and cheese and mushroom parmitier. The meal ended with a dessert of blackberry tartlet with violet and red fruit ice cream.
After dinner, the couple started the open bar with their first dance to the song Shallow with Bradley Cooper and Lady Gaga.
The wedding photographer was Yago Iglesias and, as you can see in this post, he is very talented.
Corina and Dorin said that, if they could marry again, they would do everything exactly the same.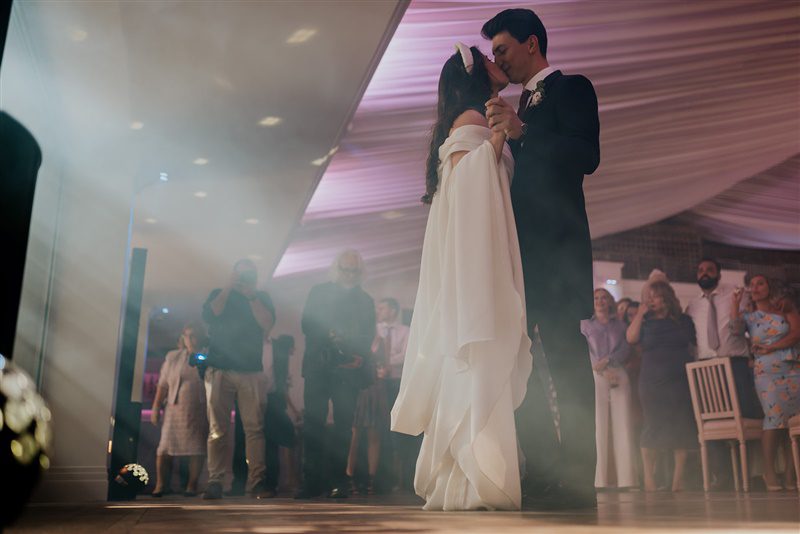 We hope you enjoyed this little reportage of a real wedding at our estate. Do not hesitate to contact us if you want a wedding as wonderful as the one of Corina and Dorin.