Flowers are as beautiful as they are adaptable: they serve to adorn, they smell good and some of the flowers are even edible. These are just a few of the reasons why choosing the flowers for your bridal bouquet is a very complicated task. There are so many options to choose from that it can feel overwhelming, but don't worry! In this post we will guide you through the flower jungle!
Bridal bouquet trends for 2019: you don't what to miss this!
Dried flowers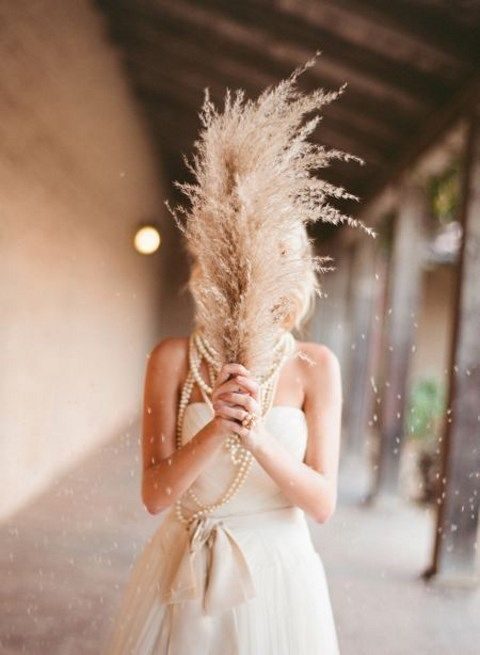 Dried flowers are not only very popular to have in your home, you can also have it as your bridal bouquet. It's not only a cheaper option to fresh flowers, it's also super trendy!
We saw a lot of pampas grass last year used to decorate your home but it was just as popular to decorate your wedding. Take a look at this beautiful pampa's bouquet!
To mix natural flowers with some dried flowers is a key to success to create a beautiful and original bridal bouquet.
This bouquet has a mix of dried wheatgrass, eucalyptus and typical wild summer flowers.
Wild flower bouquet
A wild bridal bouquet is composed of small flowers that simulate being freshly picked from the field. The one we show can be called that because it does not have hydrangeas, nor roses … and there are no flower petals.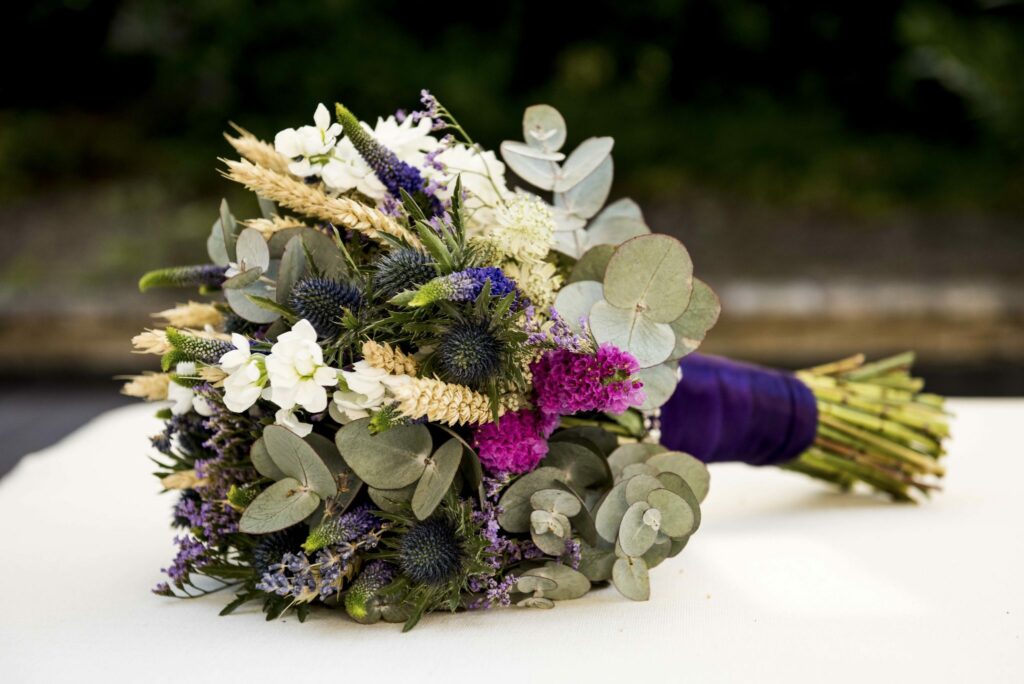 Within the wild branches, the style that has more tendency for 2018 and 2019, are totally green branches, perhaps with some flower, but only small touches.
The size of the bridal bouquet tends to be quite large and falling.
We love this idea of a wild branches made only with an olive tree. Maybe it is not everyone\'s taste, but it is a clear trend in bridal bouquets.
What do you think?
Trendy flowers to use in your bridal bouquet
At El Cigarral de las Mercedes, we are aware of all the trends in weddings, brides and decoration. Therefore, we want to share with you the flowers that will be the trendy in 2019 and that you should incorporate in your bridal bouquet.
Some of them will never go out of fashion and others will come strong to design new, original and very personal bridal bouquets.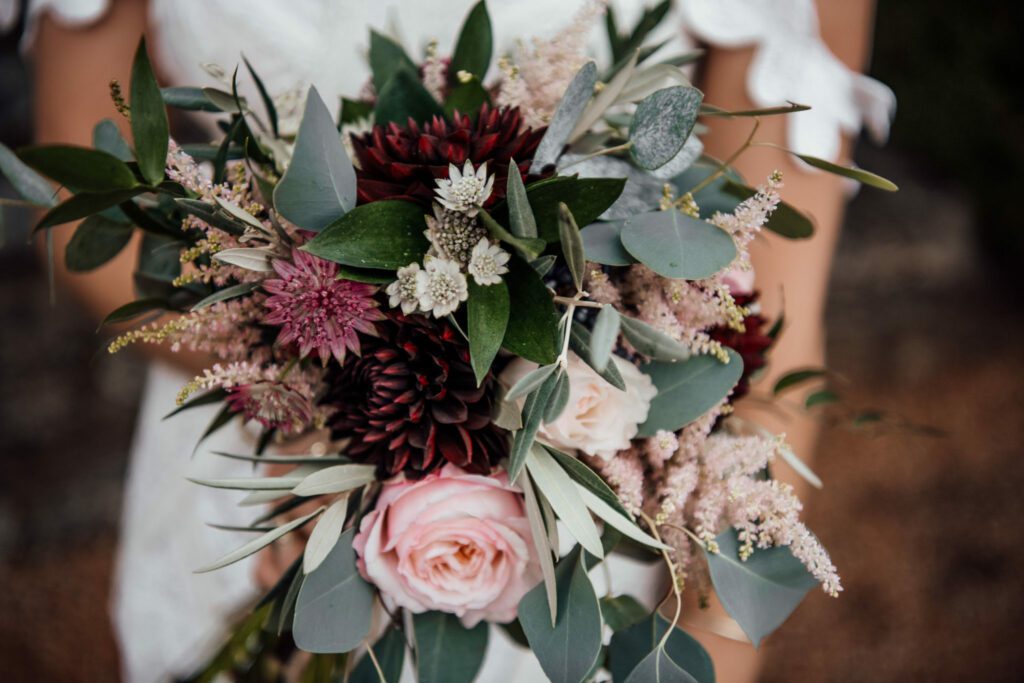 Astilbe
The astilbe flower means hope, we find it from March to November in white, pink or hot pink. The astilbe flower is an elegant flower, delicate and very easy to combine with other flowers or even a bouquet composed only of this flower will be equally beautiful.
If the dress is white, we do not advise choosing the white toned astilbe because it would not stand out in the photos.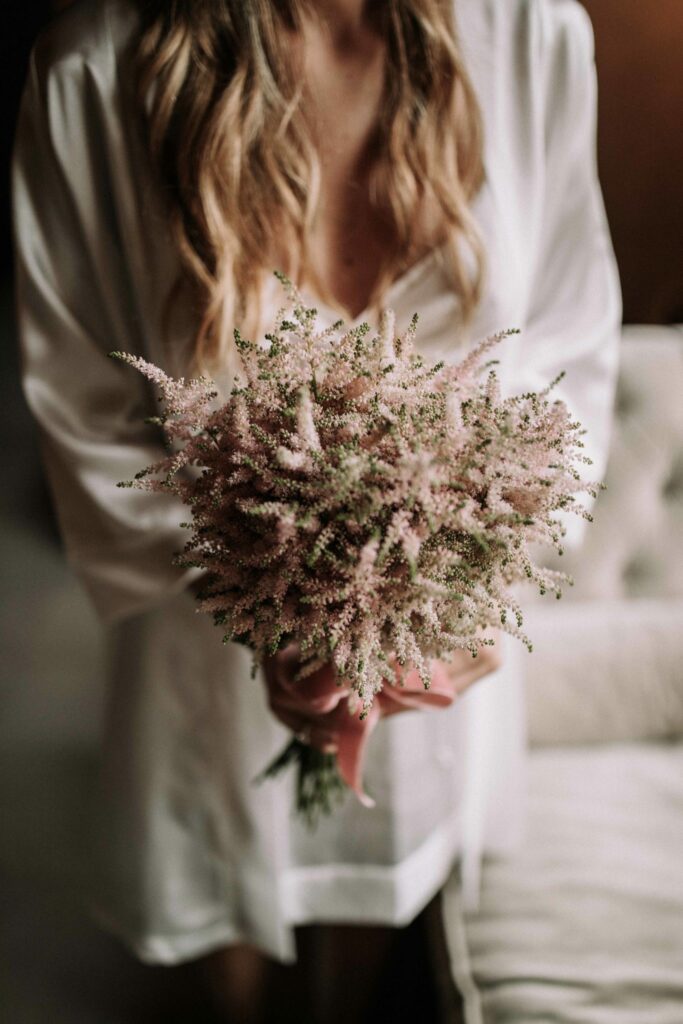 Gypsophilia or baby's breath
The name, Gypsophilia, means eternal love and is found all year; in white and pink. This flower is other used as filler flower in a bouquet but is just as beautiful on its own.
We never get tired of this flower, we use it in our centrepieces as well as the bouquets. Look at the stunning bouquet our bride Jennifer had at her wedding last year in August here at El Cigarral de las Mercedes. Gypsophilia is a very heat resistant flower, so it is always a good option if you get married in summer.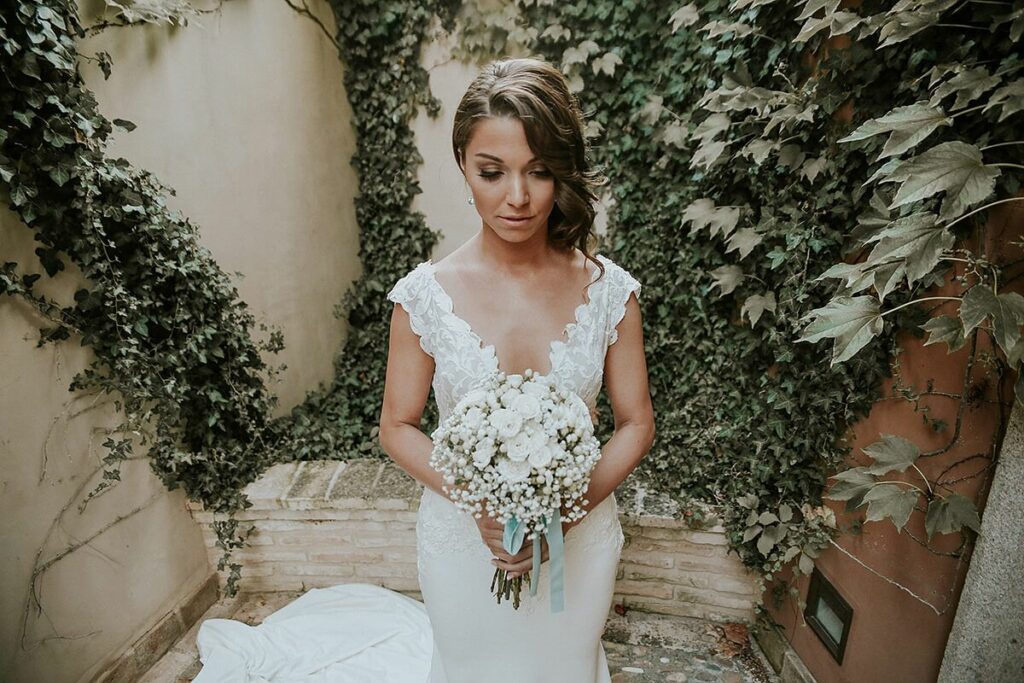 One of our favourite trends for this year is bridal bouquets that have a large flower in the center and several smaller around, of different sizes. And the following flower will make your yawn drop.
Protea
The protea flower represent change and hope and is in season from January to May, although it can be found later. Some years ago, it would have been unthinkable to use protea for a bridal bouquet, but luckily, the trends change and it is currently used a lot.
The flower last long and it's even pretty when its dry.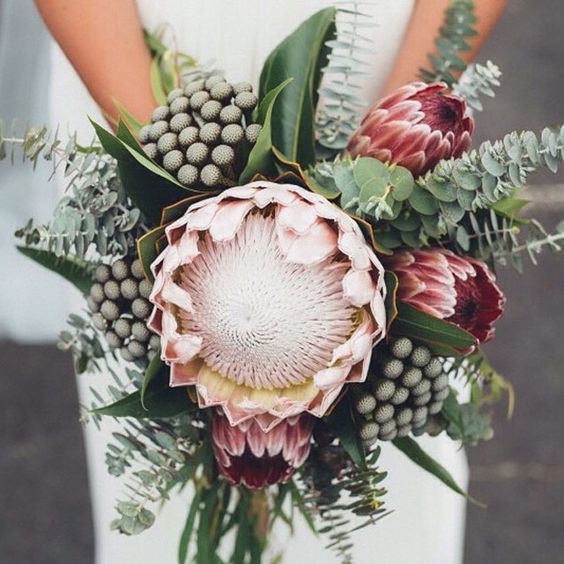 We hope that you liked our post about bridal bouquet trends and got some ideas for your own bouquet!