The happiest day of your lifeis approaching, at last, you are going to be united in marriage with the person you love and respect above all else. During the wedding preparations, you may be wondering if it is possible to count on your faithful friend as you don't want him or her to be excluded from such an important moment in your relationship. Here are some great ideas on how to include dogs in the ceremony – you'll love them and so will your pet!

Dogs at the ceremony: How to count on them?
A pet is a member of your family and, therefore, you will be very excited to have them actively participate in your wedding day. But, how to achieve this without failing in the attempt? We give you these great ideas for success!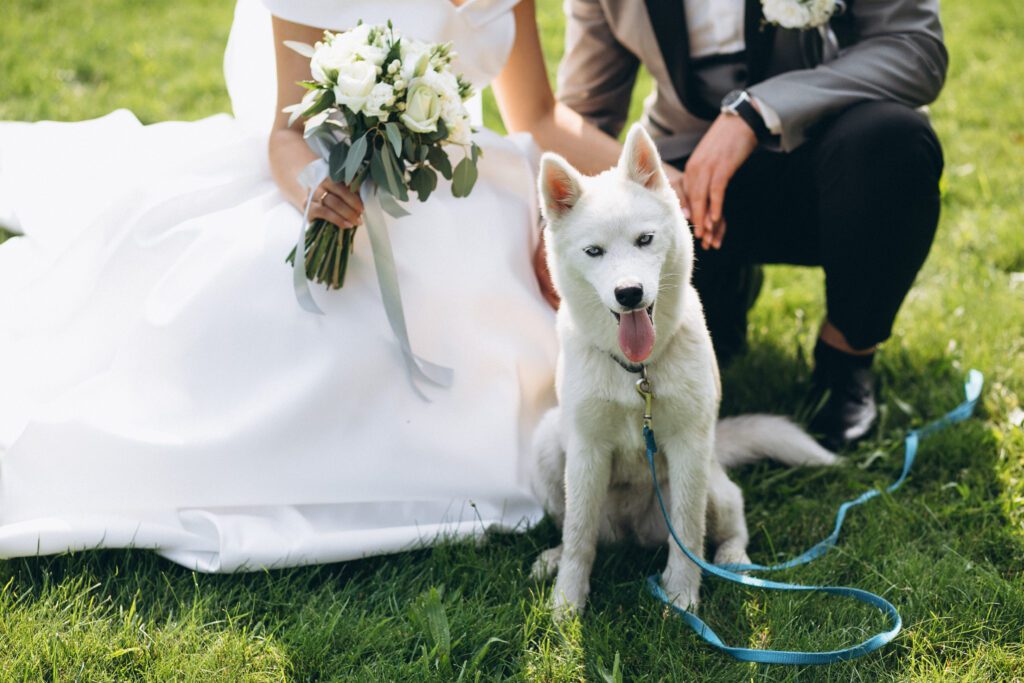 On wedding invitations
Wedding invitations are the best letter of introduction to your event. So a great way to make sure your dog is present at the celebration is to include a photo of him. Thanks to the evolution that this sector has undergone, there is a wide variety of designs from which you can choose, for example,a photo of the three of you, or simply, including a drawing of the animal or a symbol that identifies it, such as some footprints.
In the moments leading up to the "I do's".
It is common knowledge that a pet has the ability to relax us and activate the happiness hormones. So, a great idea could be to have him accompany you while your hair or make-up is being done – the feeling of him being so close will help calm your nerves and he'll be happy to be by your side. In this way, you will keep photographs with your faithful friend, a precious and emotional souvenir!
At the ceremony
Yes, yes, just as you hear. However, there is still one thing you should bear in mind: if it is a religious ceremony, you should consult the priest beforehand. And how can you participate? Whether it is announcing the entrance of the bride with a sign, or carrying the wedding rings down the aisle, to bring the dogs to the ceremony, the pet must be very well trained and rehearsed beforehand to achieve an excellent result. However, there is also the possibility that you may be accompanied by a trusted family member or friend.
At the photo shoot
After the most important "I do" of your life and exchanging the wedding rings with your partner, comes the photo session, a very special moment that will allow you to always remember the day of your union in marriage. Therefore, it will be very emotional for your dog to be present in these snapshots to remember. It is also a fun moment in which both of you, without the stress of the ceremony, will be able to enjoy your pet and your love. They will be natural, fun and, above all, full of spontaneity!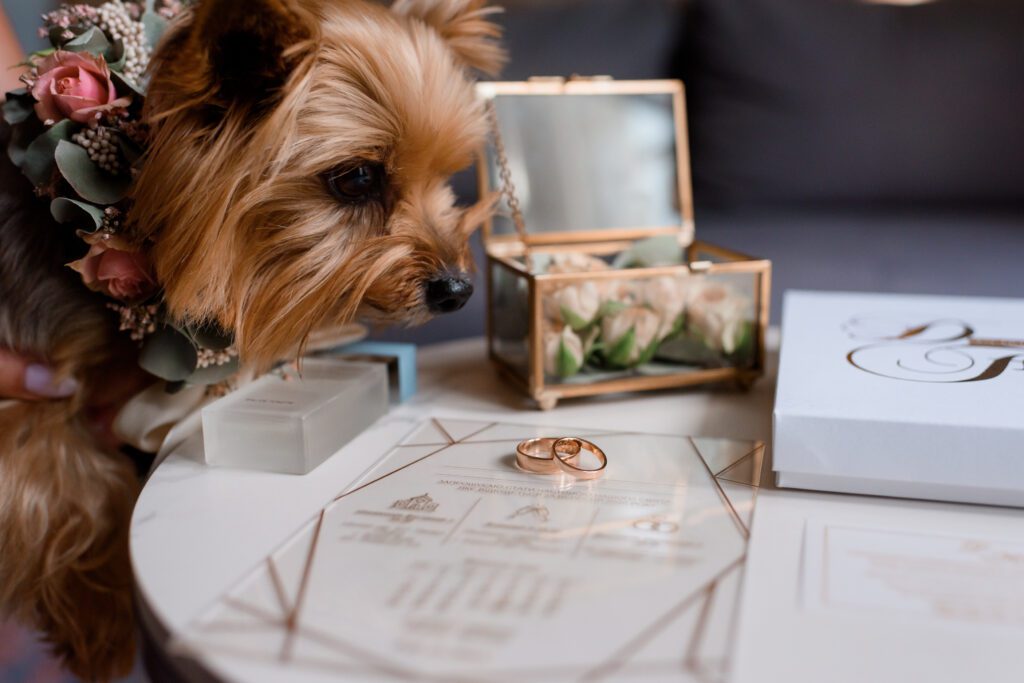 7 reasons to take your dog to the wedding
Now that you have discovered how you can enjoy your pet in such a unique and unrepeatable moment, we show you the reasons why you should take your dog to the wedding:
Your dog has to be there, he is always there every day showing you his love and affection.
Your wedding will be much more entertaining. You won't regret it!
You will have beautiful and original photographs that will also remind you of very funny moments.
He is the best witness of your love and commitment.
Without a doubt, he is your best friend and faithful companion in joys and sorrows.
They will be able to dress up in a special costume to look more beautiful than ever.
It will be your day and should not be conditioned by outside opinions. Count on your pet and enjoy the moment!
Animals are a very important part of our daily lives, they accompany us without asking for anything in return, and for this reason, we cannot leave them aside on such a special day. What do you think of these ideas for taking your dog to the ceremony? Don't hesitate any longer and enjoy a magical day with your pet!
Do not hesitate to contact El Cigarral de las Mercedes to make your wedding perfect. Call us on +34 925 252 064 or write to info@cigarraldelasmercedes.com